Customers are not fully aware about how much water is used to produce agricultural crops.
How might we design a system for customers and farmers to raise their awareness about agricultural water sustainability?
Water system is complex .
In order to understand the system better, we draft an ecosystem map to discover elements in the system.
The map branches out from four categories: needs, sources, users and problems. This map helps to visualize the connections between different elements in the system. It provides a guide to sort and prioritize the factors.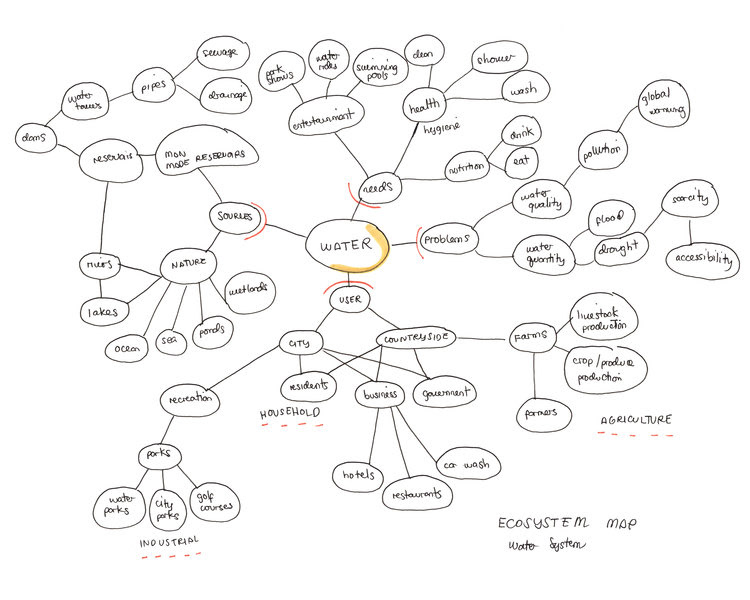 Using the concept map, we build clearer connections between elements with action words.
The links suggest that the system is intriguing but interconnected. 
We recognize that
agricultural water use is very significant in water ecosystem
. We believe that based on the large amount of crop consumed by human, there is a huge opportunity for design. This is to be further evaluated with research findings.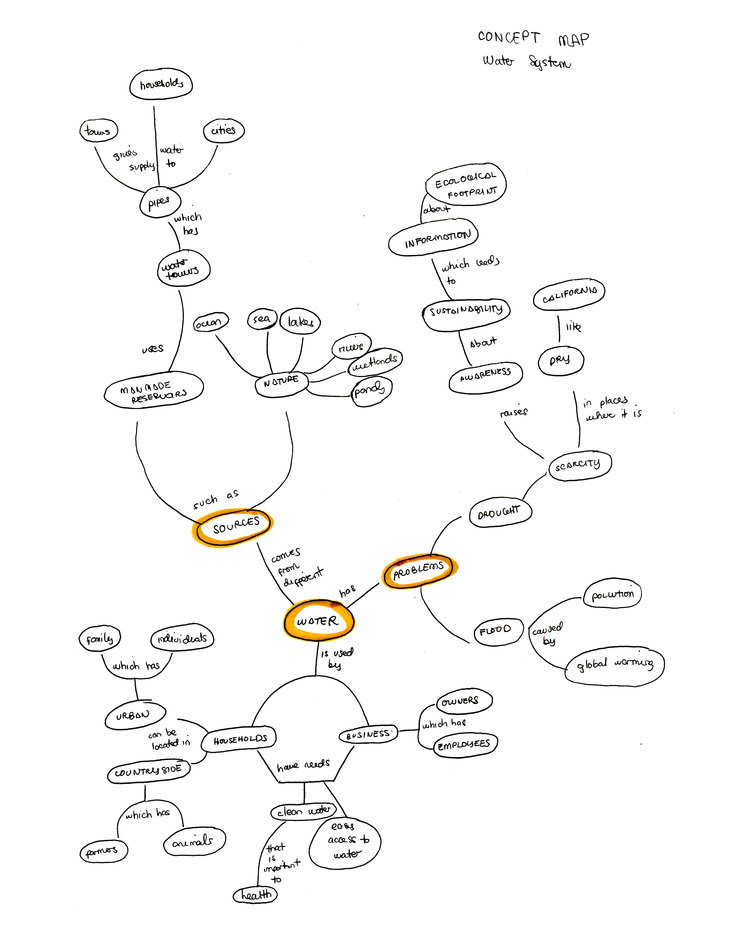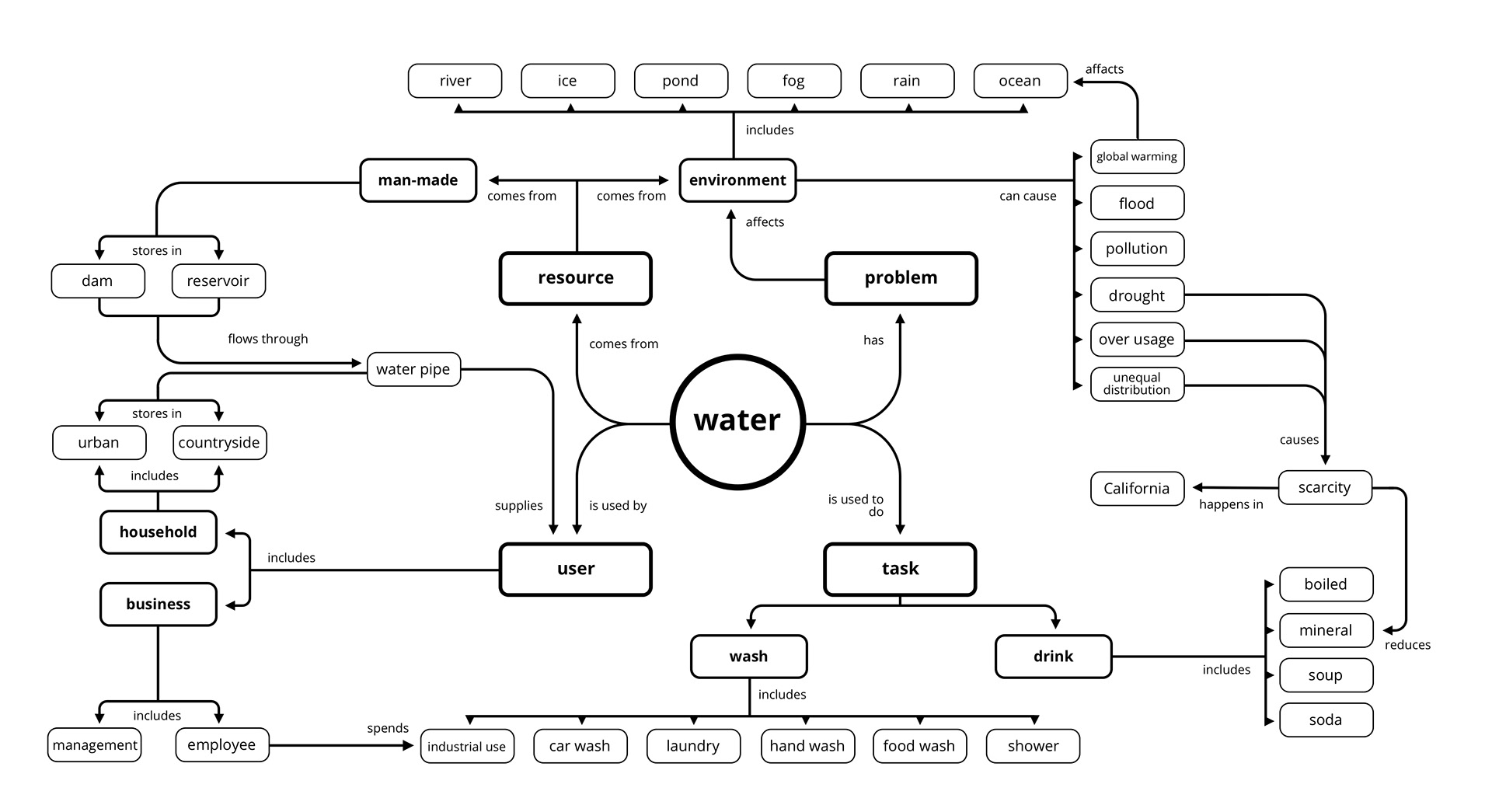 We look into the numbers to back up our choice of direction.
The secondary research suggests that California's biggest headache from water is due to agriculture. To simplify the findings, we made concise diagrams with summarized quotes for each aspect.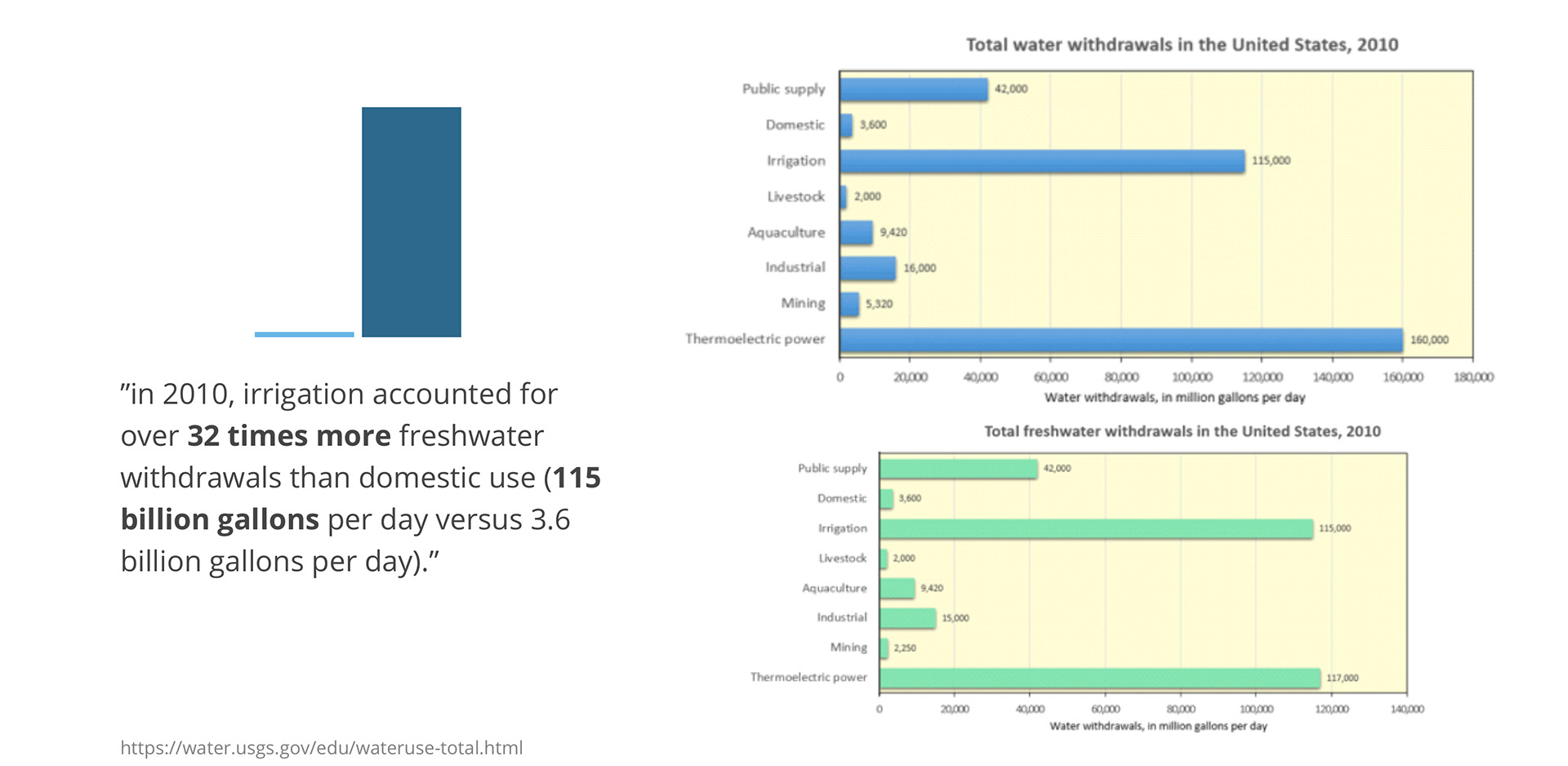 Walnut is one of the high water-demanding crops.
We found out that not only some crops are taking a lot of water to produce, their cost are also booming. This is caused by their high cost of production.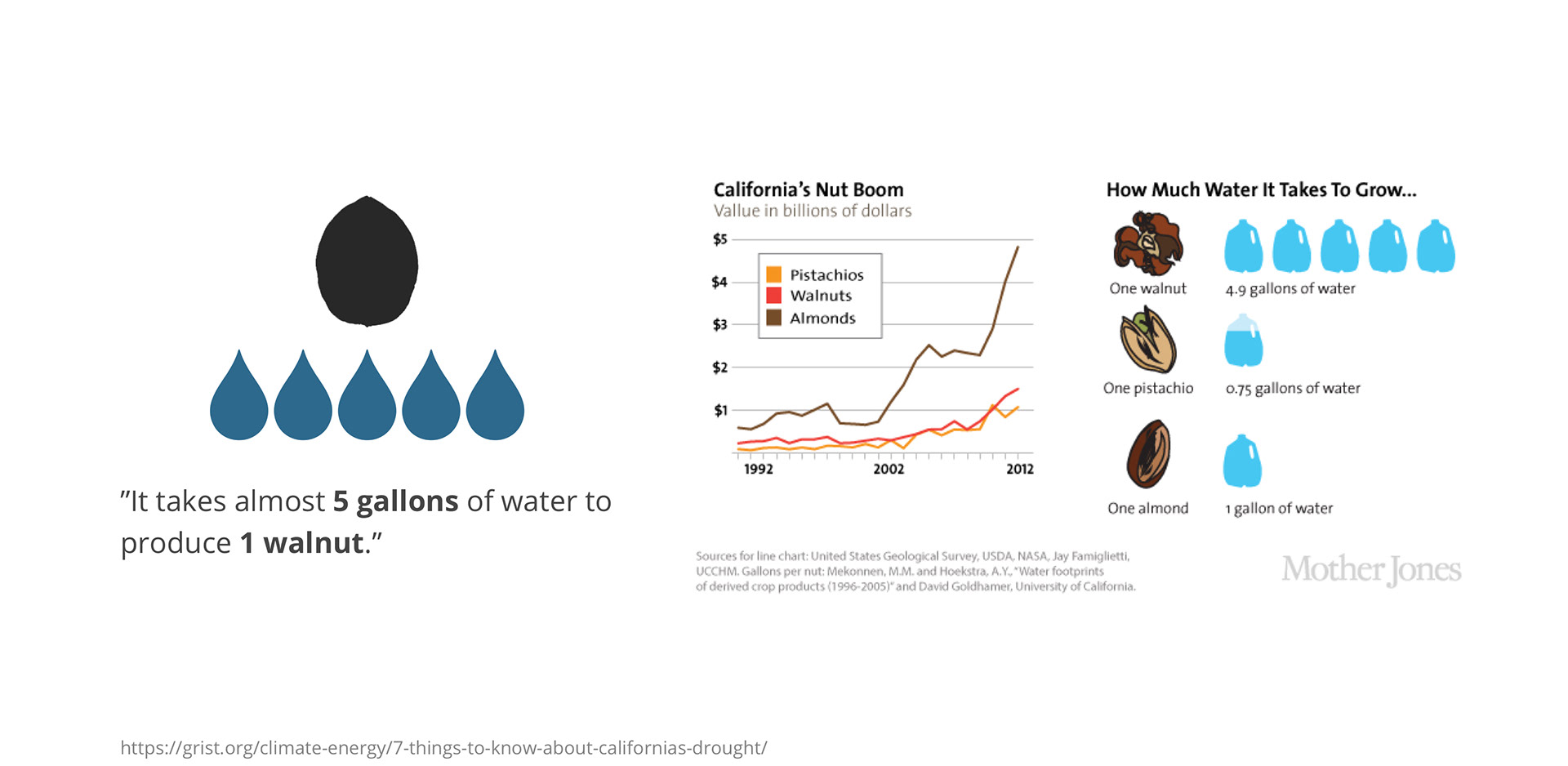 California is one of the victims from it.
Multiple fires happened because of the drought and the environment is getting worse over the years.
We draft a map to understand the basic connections of farmers, crops and other stakeholders in the system.
It reflects intercrossing relationships between the stakeholders. Foods are the most linked factor in the system because it carries most values. Farmers and customers have mutual relationship as portraying demand and supply.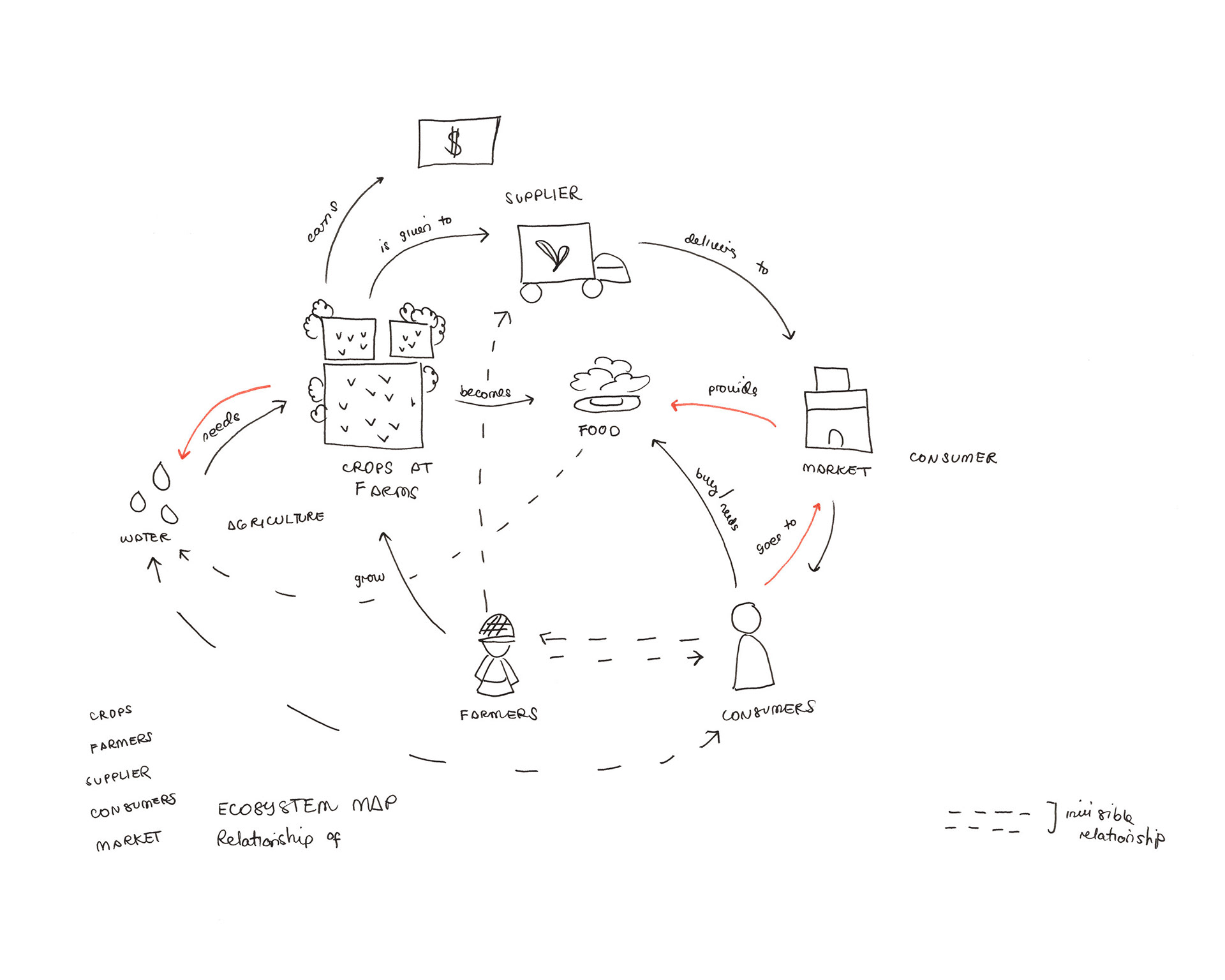 Supply and demand of "thirsty crops" are the main actors in the system.
Thirsty crops are referred to the crops that require high amount of water to produce such as almond and walnut. We want to reduce the amount of thirsty crops produced in order to positively influence the water footprints.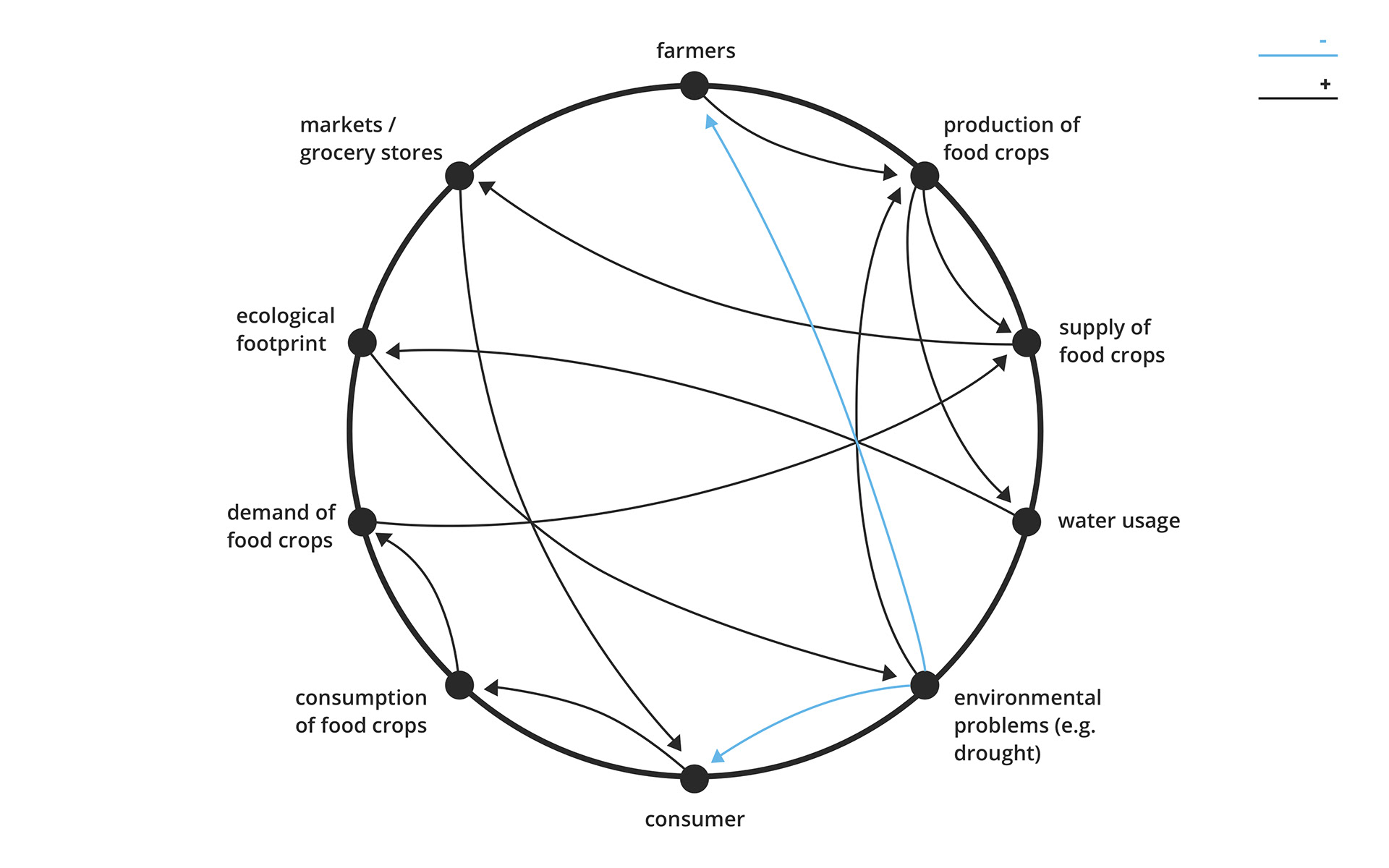 Many factors participate in the water system.
The stakeholder map lists the influences between different significant stakeholders. It provides us insights to recognize side factors that are influential in the system. The more we know about that, the more convinced that we should learn more straight from the farmers and retailers to focus.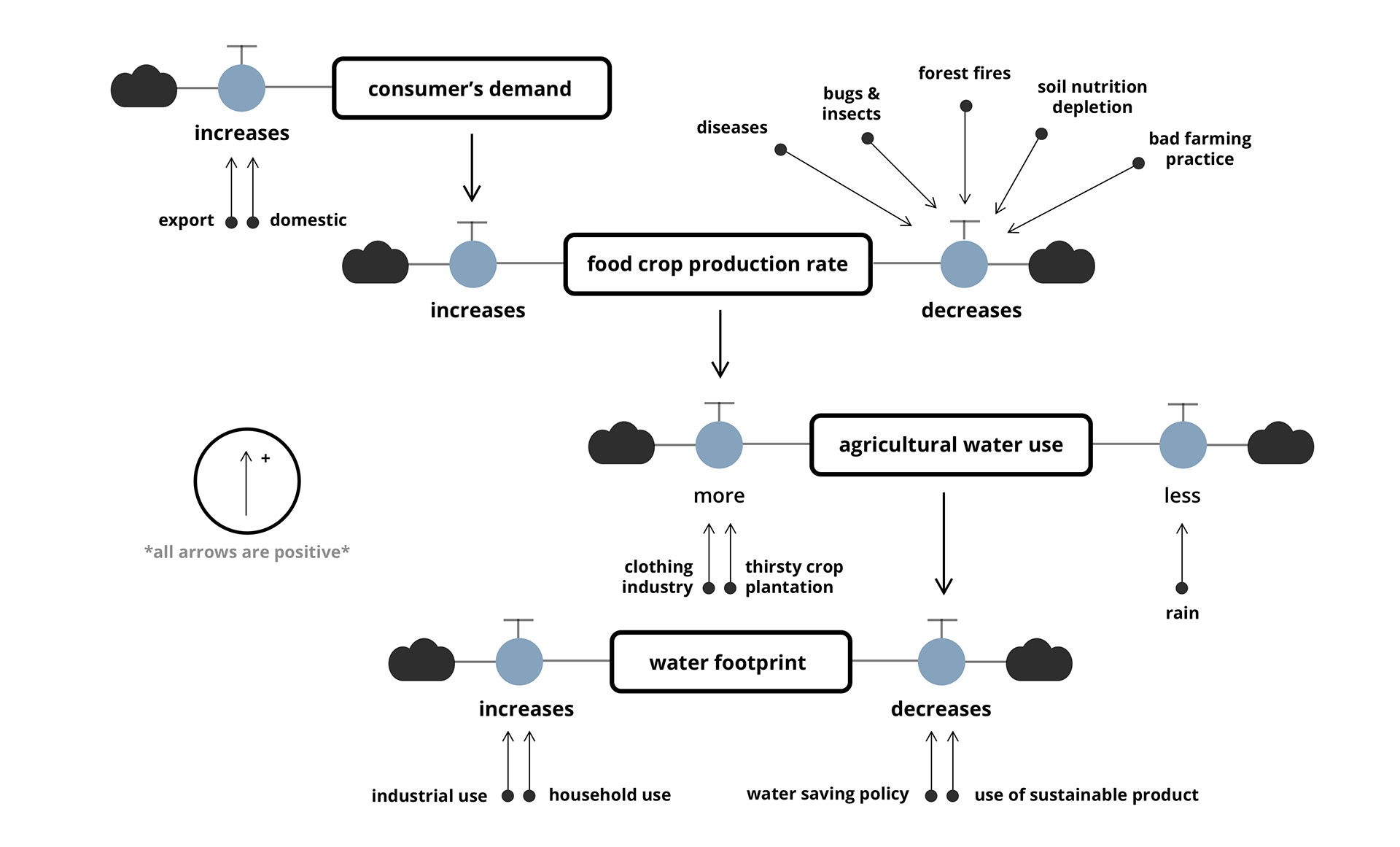 Conducting interviews creates direct informations from immediate participants in the system. We have quotes from the communication with Johann, David and Gabby at the Farmer's Market in Embarcadero, San Francisco. 
They were every engaged and gave us a lots of insights. 
In a nutshell, it appears that they have the awareness of agricultural water usage and they also show their concern and consideration regarding the system.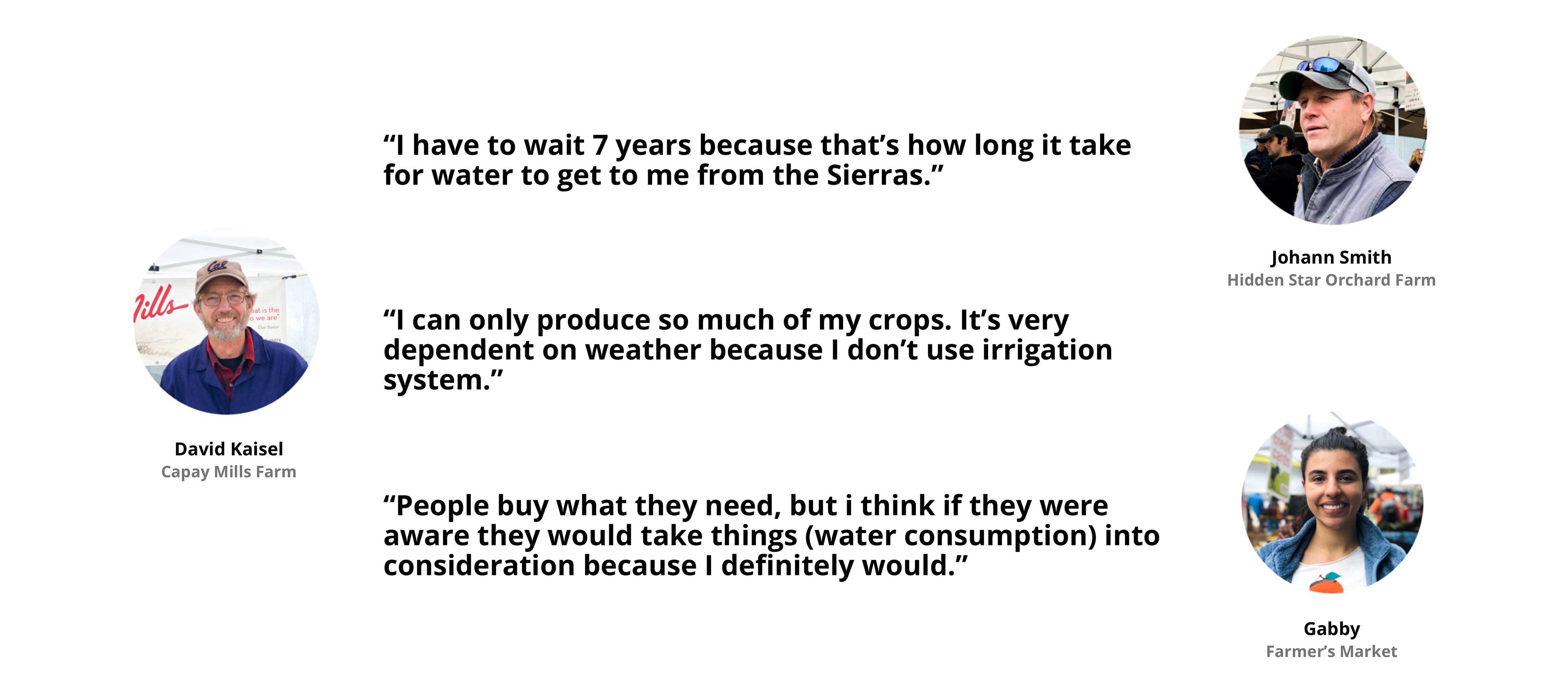 Our solution is a non-profit organization named "the Thirsty Crops project".
We name it this way to refer to the concept of "thirsty crops" and how is making the impact to water usage. The organization mainly has three touch points as part of the solution - label system, a website and promotion posters.
We believe that these touch points can provide the customers (shoppers) enough visual guidances for water-sustainability information in various locations, including their home, in the store and on the street.

From the research we know that different types of crop are demanding different amount of water to grow per unit area of field. The amounts are information that we can know from USDA (United States Department of Agriculture) and they can simply be listed and ranked.
We design three label types by their cost of water with type A being the "least water-demanding", type B being the "medium water-demanding" and type C being the "most water-demanding".
We recommend more Type A and Type B crops to be sold and farmed, and less recommend Type C crops because they are not quite water sustainable.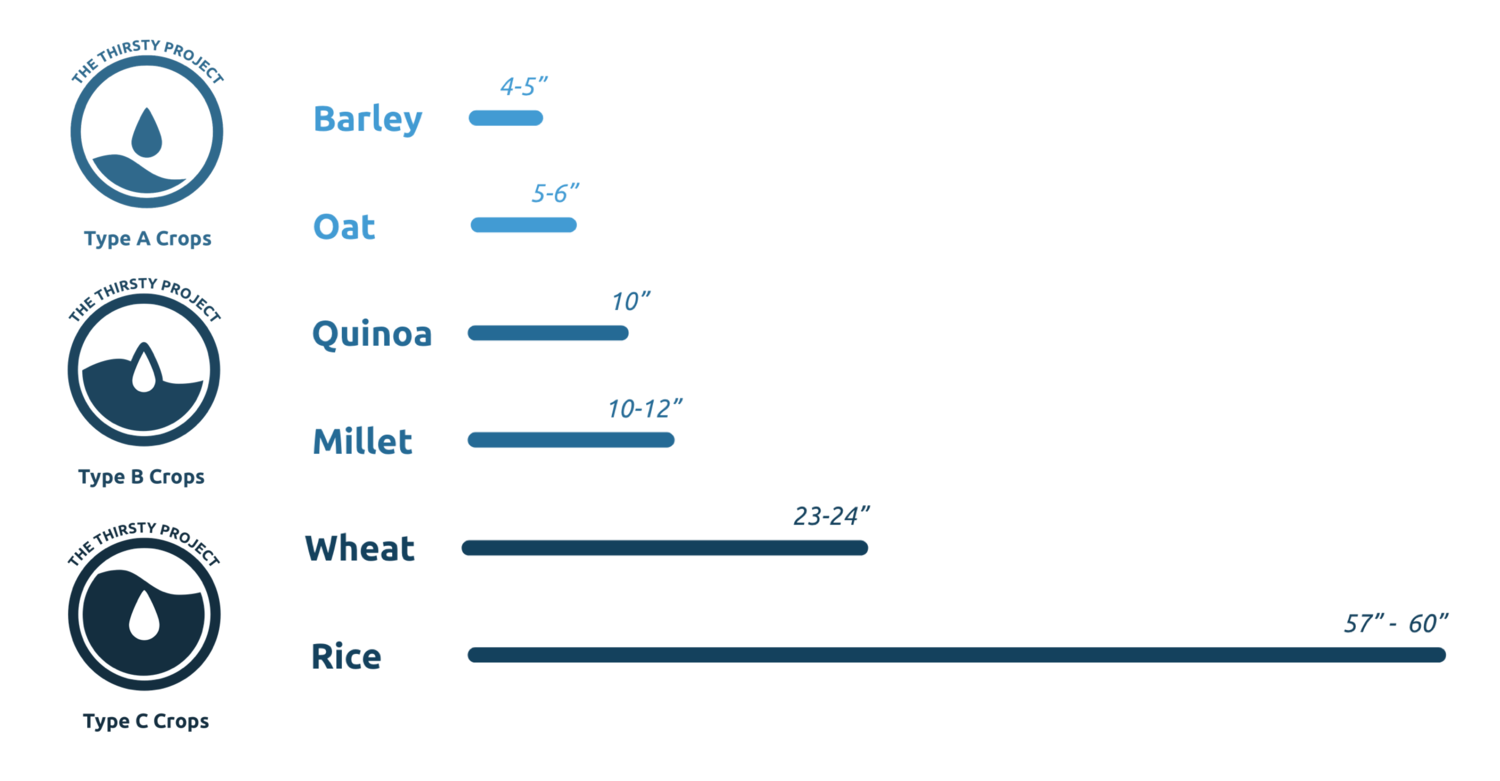 Label are placed next to the crop's price tags for the customers to review.
This provide instant visual information for the customers about water sustainability. Customers can make their purchase decisions based on how sustainable the crops are and be more couscous about it.

​​​​​​​
We use user journey maps to reflect how the label system works for customers.
After making sure that we are making the customer the "trigger" of the change in this system, we decide to study the general behavior of grocery shoppers. In the first graph, we use journey map to spot behavior and mood for each action in the whole shopping experience. 
In the second graph, we suggest the existence of our product in the experience and how it might affect the shoppers and thus influence agricultural water usage. It should reduce customer's post-shopping annoyance and finds better emotional balance during the experience.


Website is our most informative touchpoint for customers / farmers

. We design the website so anyone who is interested in the label system can learn about the information. We generally divide the website into three major parts: for the general information, for farmers and for customers (shoppers). In our landing page, we present a clean, friendly and refreshing vibe to embrace comfortable and sense of sustainability.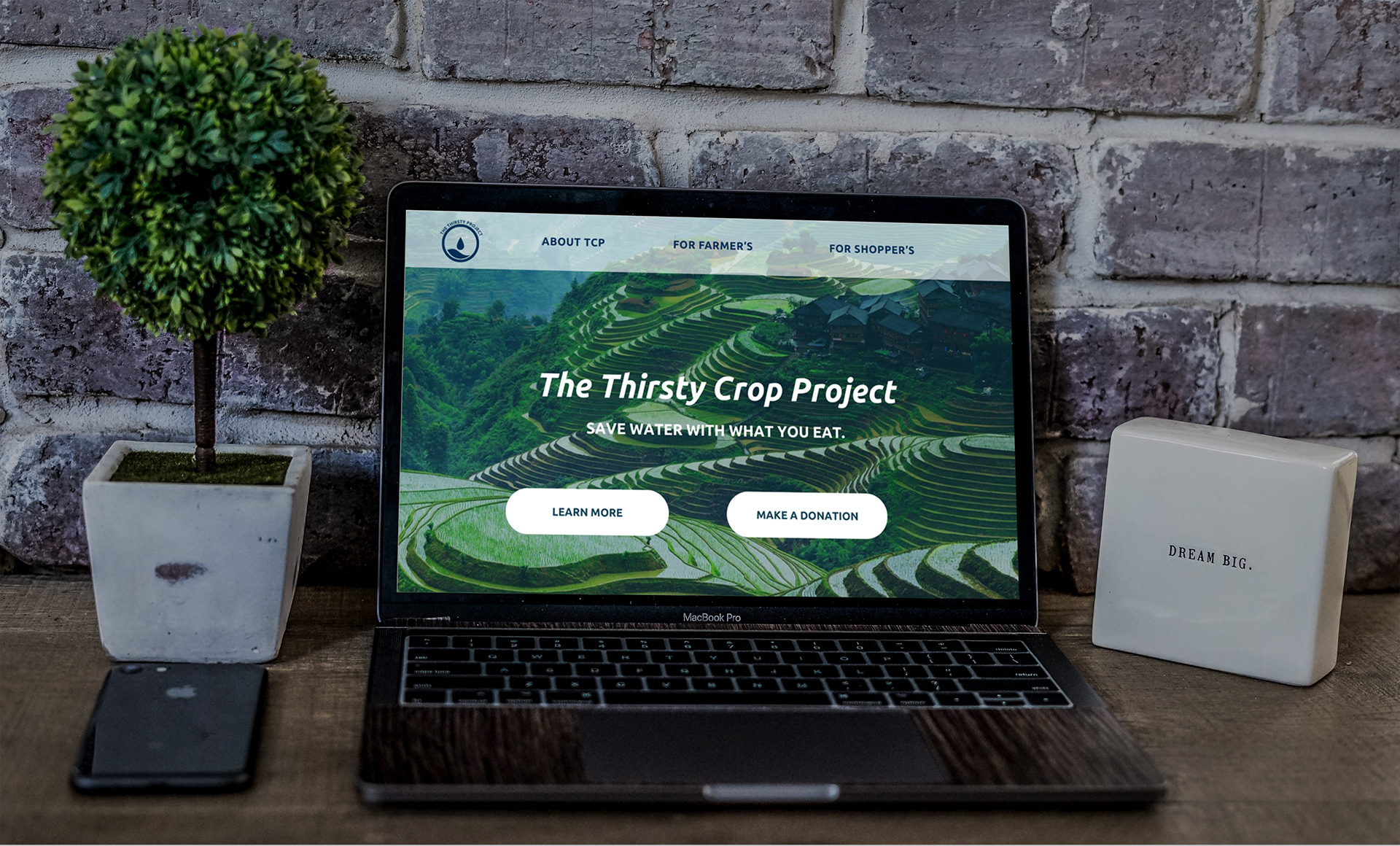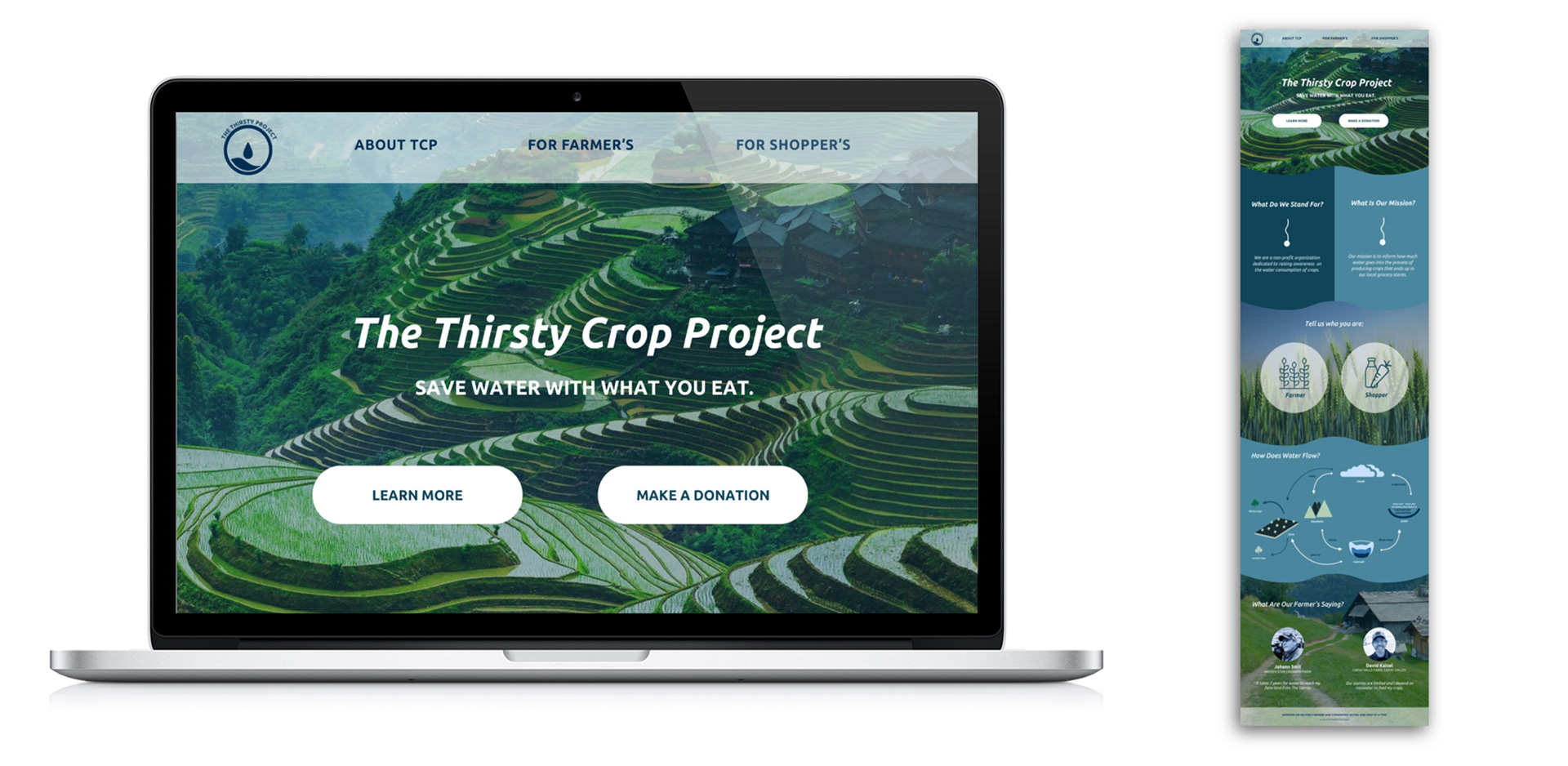 On farmer's page, there are informations to show crop's water-demanding ranking for farmers to view.
These contents provide guidelines for farmers on adjusting how much they should grow for each crop based on their water-demanding level. It also helps in order to estimate demand for certain crops so farmers can be more aware about those informations.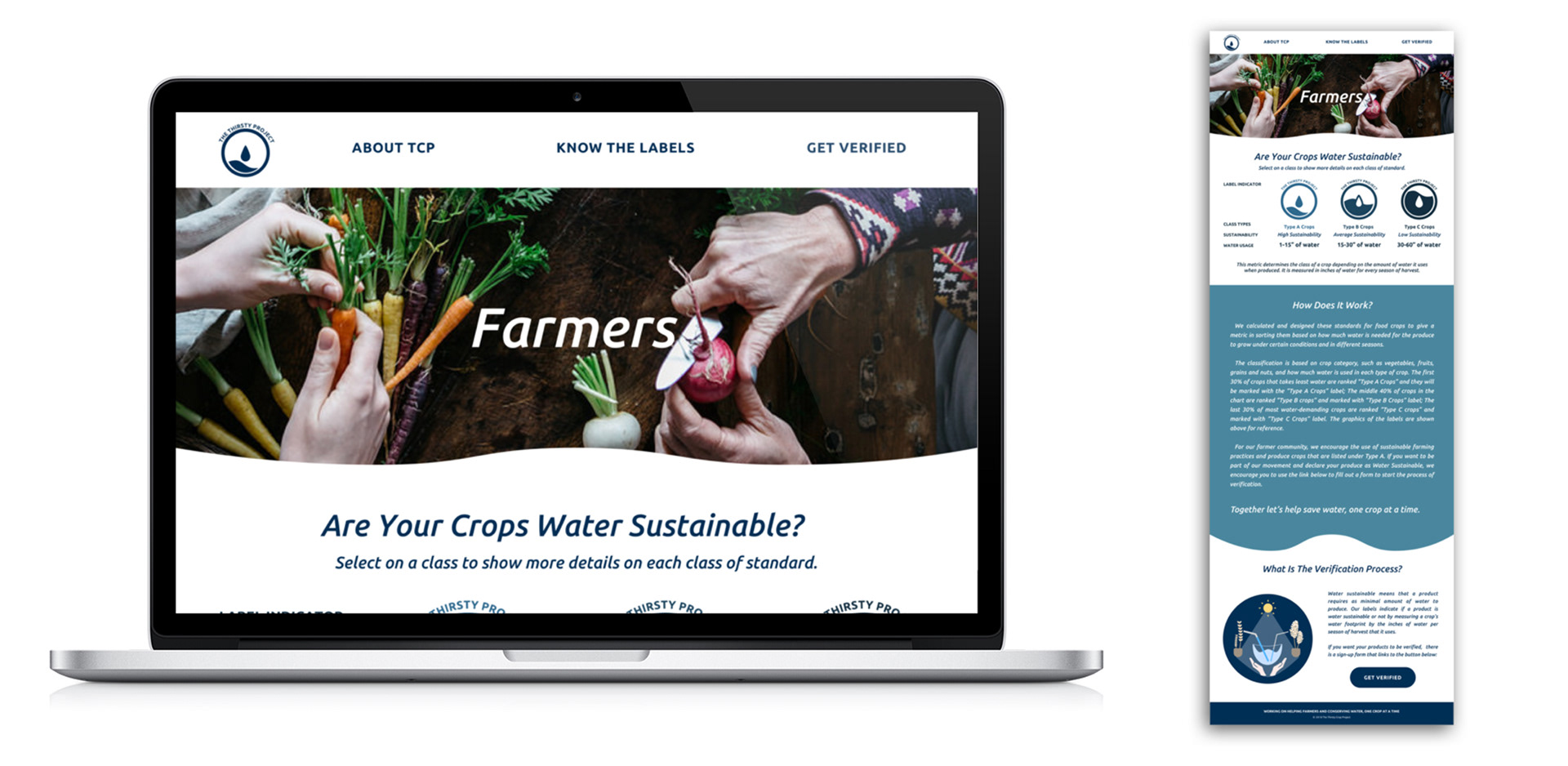 The shopper's website educates customers about crop's knowledge, their nutrition facts and water-demanding information.
Customers can be more aware about water sustainability and know more about the crop that they eat. As a non-profit organization, all our datas are collected and organized from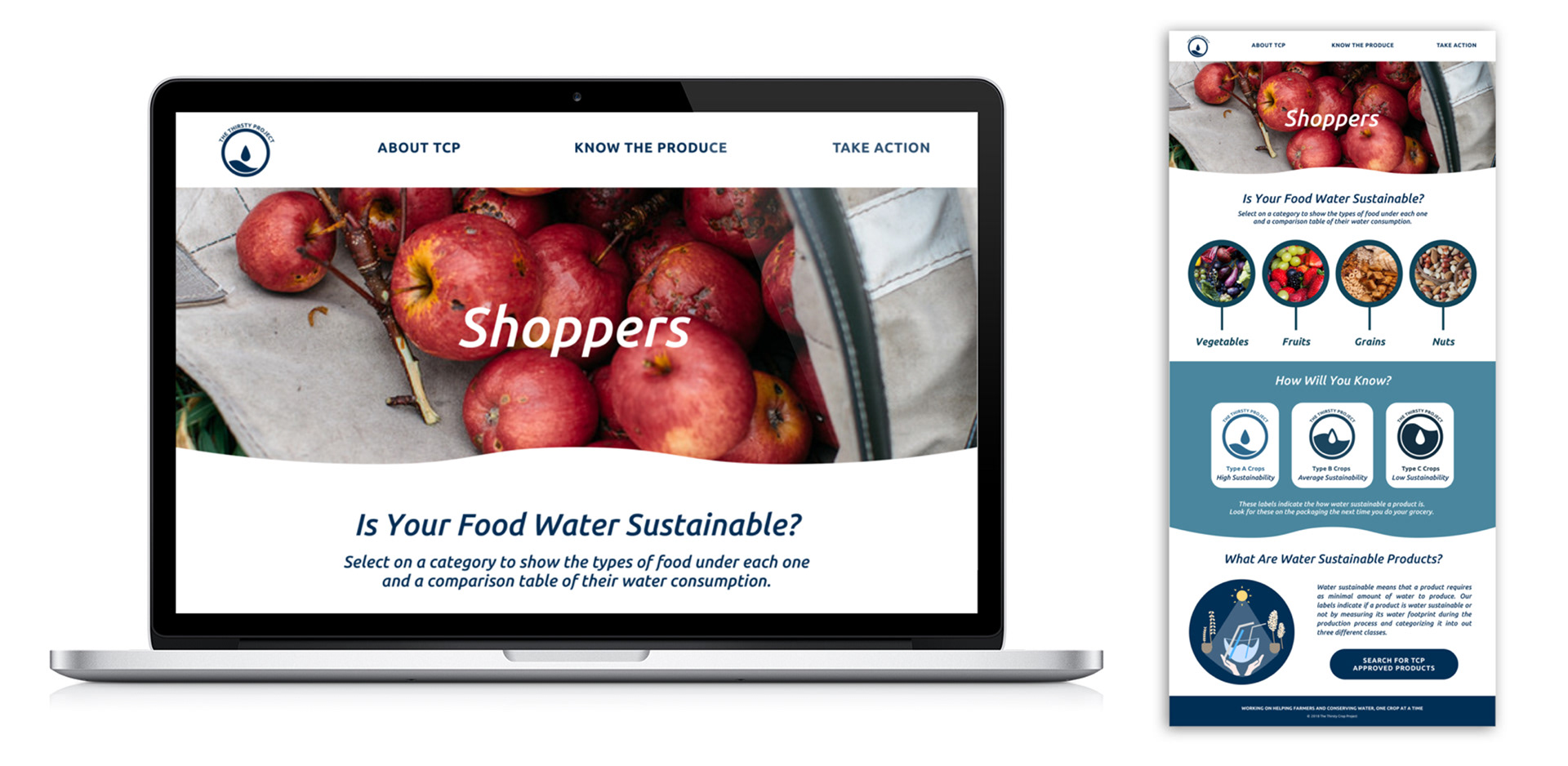 The grains page provides more informations for the foods in general.
This page elaborates all genre of crop from each of its type and their ranking on how much water they use. Both shoppers and farmers can have easy access to this information and therefore they can make better decisions. Two items can be put to be compared as well.


This is a secondary method to approach our customers.
we consider deploying street posters which contains information about water saving and facts about water, as well as our policies and our goals. We include big image to attract viewers visually and we also make it informative so we can educate people and make sure our project is working efficiently.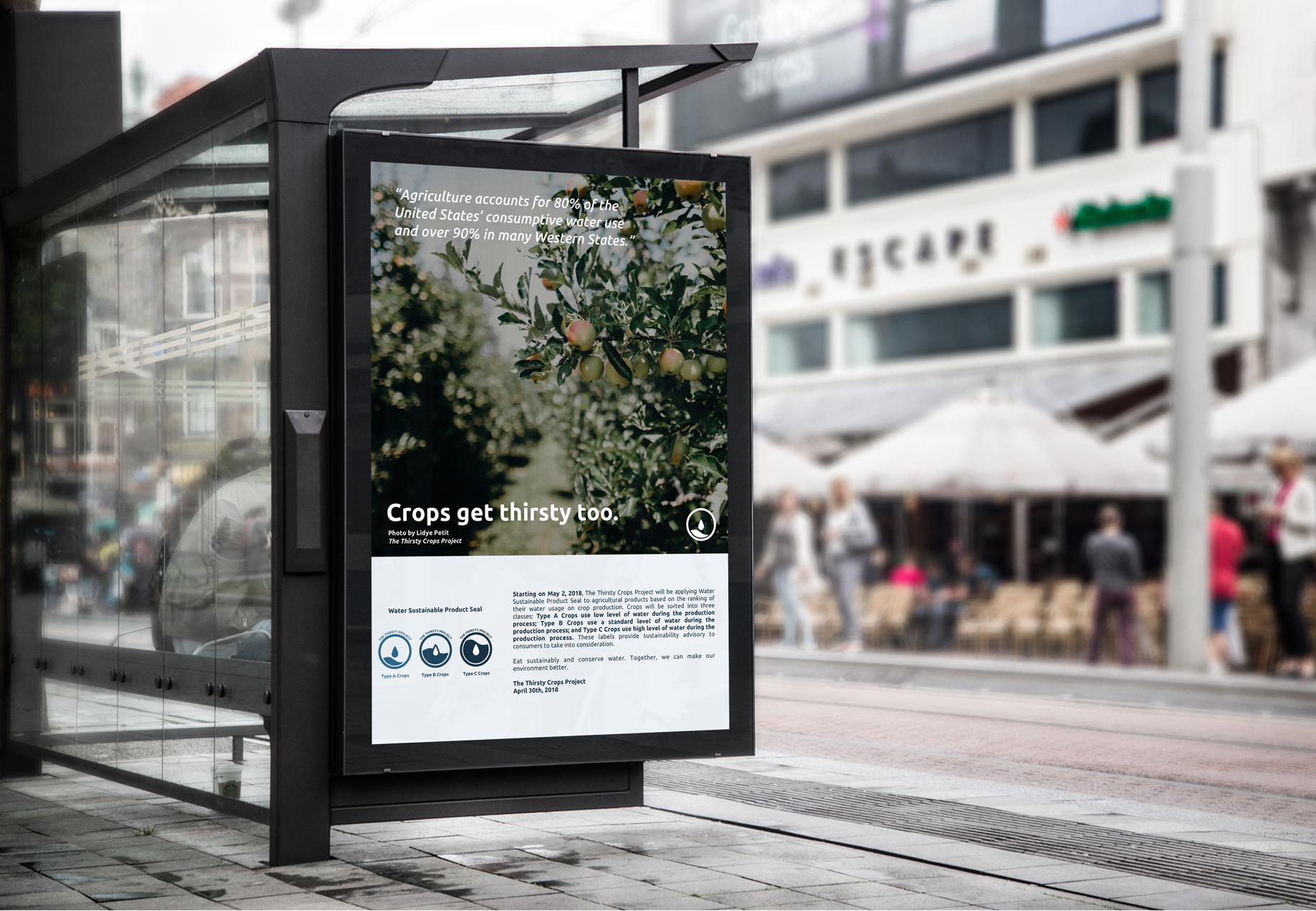 In this project we want to create awareness of worldwide water crisis and the fact that we can save water from even purchasing food crops. We hope to see a more sustainable and environmentally-friendly future!